August 7, 2020
Passion For Foods Series: Red Lentil and Smoked Bacon Soup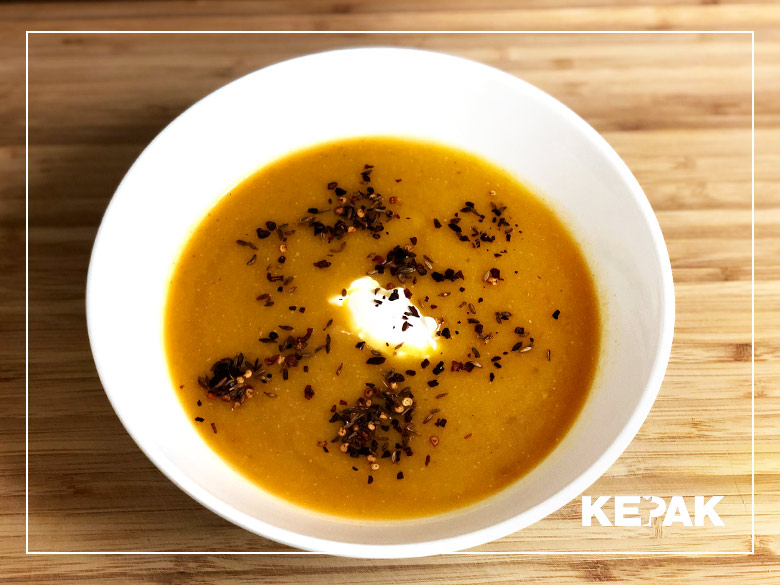 As we approach autumn and the days get colder, warm soothing meals are in demand. This Red Lentil and Smoked Bacon Soup ticks every box; warm, filling, nutritious, easy to prepare, large serving size and convenient. Soup is a great way to increase your vegetable intake and meet the 5-a-day recommendation. However, for many soup's a quick, light, nutritious option that doesn't offer a prolonged feeling of fullness. For that reason, we decided to add smoked bacon and lentils to boost satiety so that you don't have to prepare another meal an hour later.
Nutritional Benefits
Our Red Lentil and Smoked Bacon Soup is a delicious lunch option and contains a wide variety of nutrients. It is rich in protein and fibre which are high satiety nutrients meaning that you will feel fuller for longer, aiding weight loss. The lentils in the soup are rich in fibre which improves gut health, cholesterol levels and prevents diabetes through adequate blood sugar regulation. Vitamins and minerals present in this lentil and bacon soup are iron, zinc, magnesium, selenium, B vitamins, vitamin A and vitamin K. Therefore, this soup is a filling, low calorie, low-fat meal containing an abundance of nutrients benefiting health.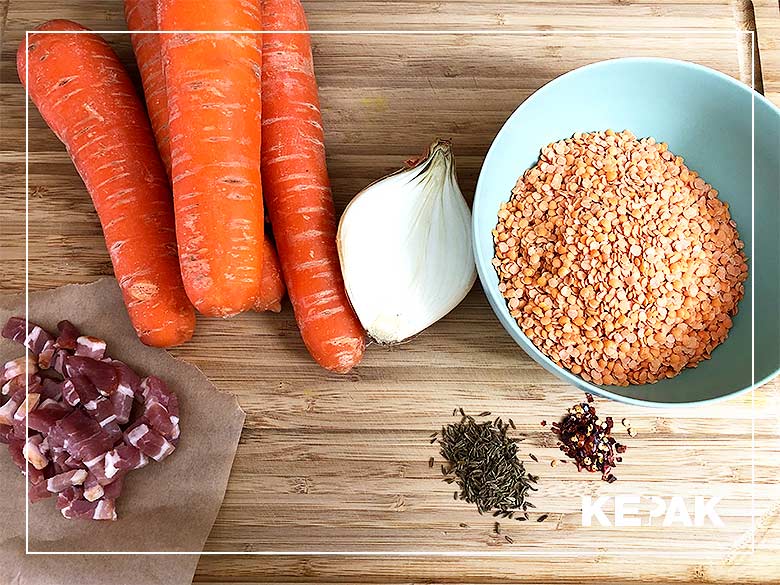 INGREDIENTS
600g carrots, coarsely grated​
200g split red lentils​
½ onion​
60g smoked bacon, diced​
½ tsp chilli Flakes​
2 tsp cumin Seeds​
5lt vegetable Stock​
Natural yogurt to garnish
METHOD

Heat a large pan and dry fry the cumin seeds and chilli flakes for 1 minute to release aromas.
Remove 2 tsp of the seeds/flakes and reserve for garnishing
Add the bacon and chopped onion to the pan and allow to fry off. Render the bacon fat for 4 minutes.​
Add the carrots, lentils and vegetable stock and bring to the boil.​
Reduce to a simmer and cook for 20 minutes on a low heat until the lentils have swollen and softened.​
Blitz the soup with a hand blender or a food processor (or leave it chunky of you prefer). ​
Season the soup to your taste
Garnish with the natural yogurt and toasted spices & serve.
Leftovers Suggestions
The remainder of the soup can be frozen in small amounts for future easy meals. ​
Bon Appétit!