PASSION FOR FOOD SERIES:
Braised Beef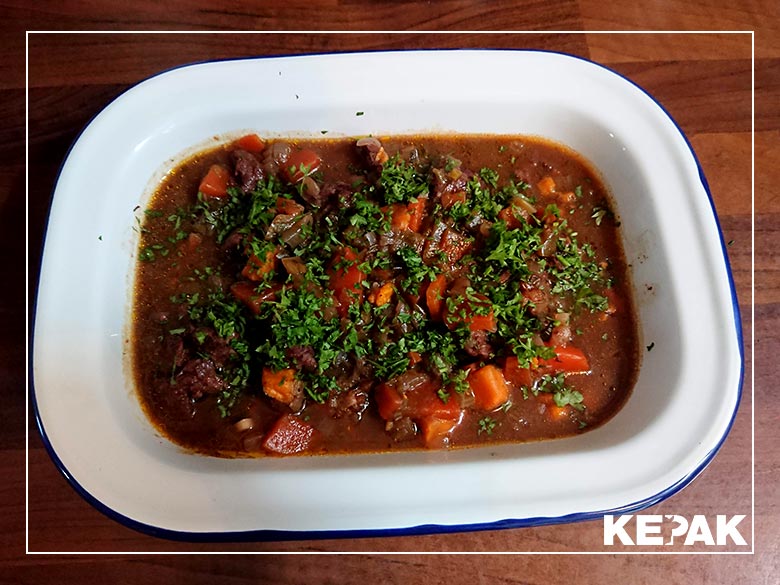 This hearty braised beef recipe is the ultimate comfort food after a long, busy day. Why not sit back and let the oven do the work? The beef is slowly braised in a rich red wine stock creating superbly tender beef with a delicious flavour.
Our braised beef recipe is packed with classical flavours from ingredients that have been sourced locally, promoting regenerative farming. Not only does this recipe provide a delicious family meal, it also helps increase your vegetable intake making it a wholesome nutritious dinner option. Serve with puff pastry, mashed potatoes and green beans and you'll be sure to impress!
INGREDIENTS

 INGREDIENTS​
Slow cooking beef (eg Shin)
Onion,
Garlic
Celery
Leeks
Carrot
Rosemary
Chopped Tomatoes
2 glasses red wine
3 litres beef stock
METHOD
Dust the diced beef in seasoned flour and brown in a pre-heated ovenable pot. Remove to the side.
Roughly prepare the carrot, leeks, celery, onion & garlic.
In the same pot as the beef, sweat off the vegetables in some oil over medium heat, add the rosemary and the browned beef.
Add 2 glasses of red wine, deglazing the bottom of the pot to free the browned elements, then add 3L beef stock and bring to the boil.
Reduce to a simmer, removing any grease that comes to the surface.
Place the lid on the slow cooker and put it into a preheated oven @150°C for 4hrs.
Serve with mashed potatoes or as a pie filler when topped with puff pastry.
Bon Appétit!