PASSION FOR FOOD SERIES:
BEEF WELLINGTON
Whether you want to show off the cooking skills you gained over the last number of months or are looking for an alternative Christmas centrepiece, our Beef Wellington recipe is the one for you! Beef Wellington consists of fillet steak coated in duxelles and wrapped in Parma ham and puff pastry. Our recipe celebrates the tenderness of fillet beef and is one of those ultimate blowout dishes that hits the right spot several times in one meal. Beef Wellington is not for the faint-hearted, it will challenge you so be prepared to allocate time and pay attention to each assembly step.
INGREDIENTS

INGREDIENTS
850g/1kg Beef Fillet​
750g mushrooms​
½ bunch fresh thyme​
3 cloves garlic​
8 sheets dried ham (Serrano or Parma)​
10g Dijon mustard​
1 sheet puff pastry​
1 egg yolk, for eggwash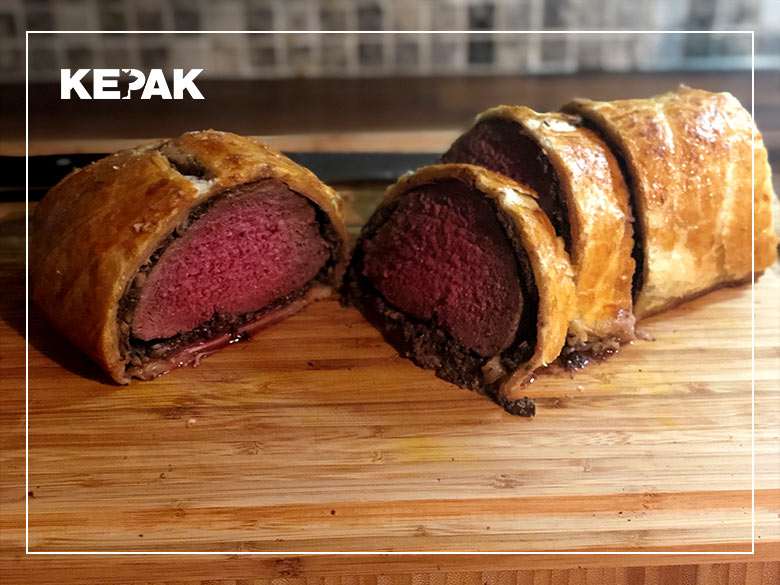 METHOD
The key to this recipe is that it is an assembly exercise, so preparation of each component is important, with chilling essential at different stages. Once all wrapped, the Wellington can be refrigerated until needed.​
Season the beef fillet with plenty of salt and pepper and sear on all sides in a hot pan, until all sides turn brown. ​
When out of the pan, apply the mustard to the beef, covering all sides and allow to cool.​
Blitz the mushrooms and garlic in a food processor. Cook this duxelles mixture along with the thyme leaves in a dry pan until all moisture has evaporated. Remove into a tray to cool, and season with salt and pepper.​
For assembly, layout clingfilm on chopping board. Overlay with the dried ham slices and spread the duxelles/mushroom mix over this. Put the cooled beef fillet on top and roll up into a cylinder shape, tightening the clingfilm at the sides. Chill the cylinder in the fridge for 15-20 minutes.​
Again, layout some clingfilm on the chopping board, roll out the puff pastry and place on top. Unwrap the cling film from the beef and place on the pastry. With the aid of the clingfilm, roll the pastry around the beef fillet, trimming any extra pastry away. Tighten the pastry at the sides by pinching the clingfilm at the sides and roll to tighten. Chill until ready to roast.​
Preheat oven to 180°C and remove the clingfilm from the Beef Wellington. If putting a design on the pastry, do so with the back of a knife then break the egg yolk with a pastry brush and apply heavily to all sides of the pastry. Sprinkle with salt to help get a crispy pastry top.​
Cook at 180°C for 40 minutes until golden brown for medium-rare beef, 45 minutes for medium and ALLOW TO REST for 25 minutes before carving!​
Bon Appétit!