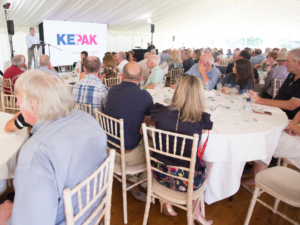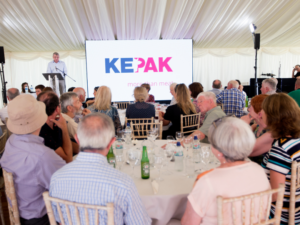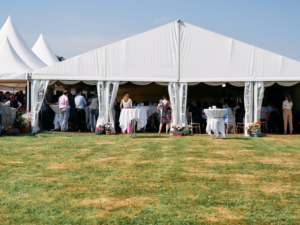 A bumper crowd packed out Kepak Athleague for a special agricultural community event last week to commemorate the 100th anniversary of the first female vet in Europe, Aleen Cust.
The event, which was themed Embracing Change: To do things differently, first we must see things differently, focussed on how farmers and the entire agriculture industry must embrace change from enhancing sustainability to increasing inclusivity.
Europe's first female vet, Aleen Cust, spent a period of her career working in Athleague. After several years of tireless campaigning, Aleen's veterinary degree was fully acknowledged.
Kepak Athleague, which is part of Kepak Group, the leading Irish food company, employs 320 staff and sources from more than 8,000 local beef and lamb farmers in the region.
"Innovation, or more simply put, doing things differently, is a mindset that runs across all aspects of our business from farm to fork at Kepak," said Kepak CEO Simon Walker. "This event provided us with an important opportunity to discuss innovation and partnership with our valued suppliers as a critical component of creating a sustainable future. To bring about real and meaningful change, together, we will need to continue to see, think and do things differently. Overall, we were delighted to see so many of our colleagues, suppliers, and representatives of the local community at our event last week as we honoured Aleen Cust's legacy and learned how we all need to continue to embrace change."
Speakers and panelists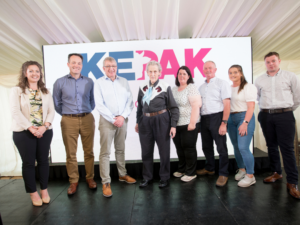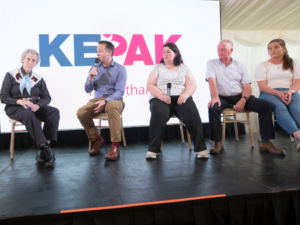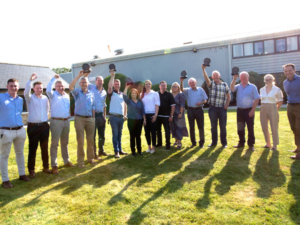 The primary event featured prominent animal behaviourist and scientist Dr Temple Grandin, who has autism and is renowned as an advocate for inclusivity and diversity in the sector, in addition to animal welfare.
It also included an address from Kepak CEO Simon Walker who spoke about the importance of enhancing sustainability and increasing inclusivity in the agriculture sector and the different actions Kepak is taking to innovate and do things differently.
A panel discussion, chaired by Farming Independent journalist, Claire McCormack, additionally formed a core part of the well attendant event. The panel featured discussion between Mick O'Dowd, Kepak's Director of Agriculture and Dr Grandin, as well as local farmers Mona O'Donoghue Concannon and Aoife and Peader Coyle.
Mona has played a huge role as an advocate for women in agriculture through being a member of the Women in Agriculture Stakeholder Group and being a beef farmer in her own right in Co. Galway. Meanwhile, the Coyle's are an impressive father and daughter duo who are farming in a mixed enterprise partnership in Curraghboy, Co Roscommon.
Lairage and community group visits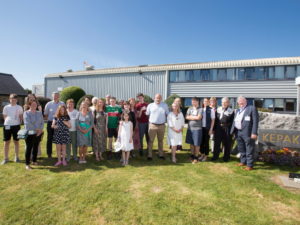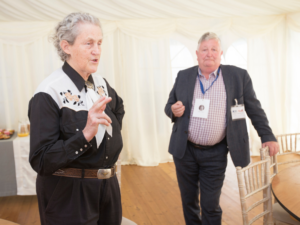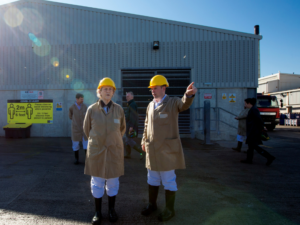 Prior to the main event on Saturday August 13th, 2022, Dr Grandin met with Kepak Athleague staff and visited its beef and lamb lairages, with which she was very impressed.
These visits were followed by a poignant meeting with a group of 25 local people including Autistic children from the area, organised by Cllr. Laurence Fallon, and separately with Deirdre Lynch, the Director of 'Not So Different' Dublin, a social enterprise promoting equality and inclusion for people who are neurodiverse and their families.
Successful event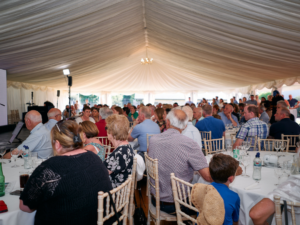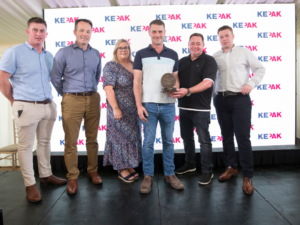 The main event was a roaring success, with Kepak bringing together suppliers and stakeholders to connect once again in person following extensive pandemic related lockdowns.
It was also an important opportunity for Kepak Athleague to highlight the meaningful contribution of its suppliers through an Awards ceremony that took place at the conclusion of the event.
On what was the hottest day of the year, the event was opened by Kepak CEO Simon Walker and followed by Kepak Athleague Site Manager Darragh McHugh who gave overview of some facts around Kepak Athleague as a well-known employer in the region.
Dr Temple Grandin, the keynote speaker, spoke fondly of her visit to Ireland and interest in Irish landscape and the types of crops grown here. She addressed her own childhood and challenges she had to overcome to be seen and heard while living with Autism. Dr Grandin spoke of the importance of creative and innovative minds that see things differently. She also mentioned the challenge of working in a male dominated industry in the 1970s and how she broke down barriers while working as an agriculture journalist. Finally, Dr Grandin addressed the environmental challenge around farming and highlighted how the sector must continue to endeavour to be as sustainable as possible and play its part.
Following Dr Grandin's speech, the panel discussion took place with Mick, Temple, Mona, and the Coyle's. Aoife Coyle spoke of how she always wanted to be a farmer and the decision made sense for her from a career perspective.
All farmers spoke of the actions they are taking to be sustainable, for example, using protected urea and incorporating clover in their pasture mix to reduce greenhouse gases. Mick, meanwhile, spoke of the importance of Kepak Farm as means of imparting knowledge on sustainable farming methods, the importance of collaboration, education, innovation, and research.
The discussion was followed by food and drinks and the event concluded in crescendo with a supplier award ceremony featuring popular chef Neven Maguire who made presentations to Kepak suppliers in a range of categories.
Thank you
Everyone at Kepak is grateful the team at Athleague led by Darragh McHugh for their efforts on bringing together such a successful event of scale. A special word of mention must be made for Lorna Kennedy of Kepak Athleague for her trojan work in the organisation of this important agricultural community event