Kepak has launched a new online customer loyalty programme that adds an innovative dimension for trade customers when ordering Kepak/Big Al's Foodservice branded products.
'Food Alliance' rewards selected Kepak foodservice customers such as food-to-go retailers, fast food operators, pubs, restaurants, coffee shops and hotels with points which can be redeemed for a fantastic range of personal and business items such as catering equipment, digital marketing tools, spa breaks, family fun days, holidays and much more. Operators can also donate their points to the Jack & Jill foundation and Kepak will match their donation.
Bláthnaid Ni Fhátharta, Marketing Director for Kepak Foodservice & Corporate Communications, said:
"We've always appreciated repeat business from our loyal customers. The Food Alliance programme now enables Kepak to give back in a meaningful way to those customers and thank them for their dedication to our products."
"Kepak continually explores ways to innovate and deliver solutions that will help forward-thinking foodservice operators drive customer loyalty and ancillary revenues. Our research has revealed that a wide range of business-focused rewards and services was the most important aspect of a loyalty programme to our members," she added.
Food Alliance, which is free to join, is a departure from the traditional loyalty programme, especially in the foodservice industry. Traditionally, points have been earned on purchases only. Kepak, however, is disrupting this model by not only rewarding operator purchases but also rewarding them for excellence such as attending training programmes or participating in market research via surveys.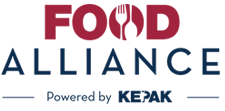 Rewarding Excellence in Food Solutions