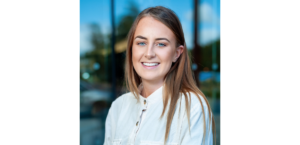 Our previous graduates know that hard work pays off, with many staying with us after the programme finishes. We're big on growth and by offering dedicated mentors and personal development training, you could find yourself working and thriving in any section of the business. The Graduate programme is tailored to unveil growth opportunities and help you make the most out of your time.
Ciara Kenny, Technical Services Manager, shares her experience being part of Kepak's Graduate Programme:
How has the Kepak Graduate Programme helped your career progression?
It has helped speed along my career massively. The graduate programme gave me great knowledge and understanding of management in all its many aspects and its applicability to a wide range of practical management situations.
 What is the best part of your job at Kepak?
 Every day is different, and I enjoy the challenges associated with this, I am constantly given new tasks and a chance to develop my career. Working alongside my colleagues, everyone within Kepak is always very supportive and motivating.
 What supports/training did Kepak provide as part of their graduate programme?
The training in Kepak is well structured and is always aimed at career development. I had the opportunity to complete a Diploma in Professional Competence with Kepak during my graduate program. I have also completed many training days around HACCP and Food Safety linked with my job.
What are the benefits to doing a graduate programme?
The opportunity to rotate through different departments and sites within Kepak and gain a wealth of experience.
Hands-on learning
Training and development opportunities
An opportunity to complete a Diploma and develop your skill set
Why do you recommend Kepak's Graduate Programme to new graduates?
I would recommend Kepak's Graduate Programme for many reasons. Kepak is a large company with many different departments and completing their grad program can give you an insight into what career path you would like to take. Which could be something completely different to what you thought. Along with this, there is a great level of support across all sites when starting your career is a huge benefit when you progress you build a relationship