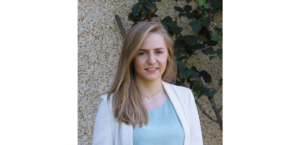 Our previous graduates know that hard work pays off, with many staying with us after the programme finishes. We're big on growth and by offering dedicated mentors and personal development training, you could find yourself working and thriving in any section of the business. The Graduate programme is tailored to unveil growth opportunities and help you make the most out of your time.
Aoife Ryan, Lamb Supply Chain Manager shares her experience being part of Kepak's Graduate Programme:
How has the Kepak Graduate Programme helped your career progression?
Coming through the Kepak Graduate Programme gave me the opportunity to learn from the ground up and gain an understanding of all the different functions in the business, how they interact and work together. This has served me in the various roles I've worked in since as it has provided me with a strong knowledge base to build on.
What is the best part of your job at Kepak?
Working in Supply Chain, there is great diversity in the role from day-to-day problem-solving to working on long-term high-level planning. As our teams work with multiple functions and across sites, there is a lot of collaboration and teamwork.
Why did you choose to work with Kepak?
I choose Kepak as it is a rapidly growing and evolving company with strong values and a great reputation.
What supports/training did Kepak provide as part of their Graduate Programme?
My training was a mix of on-the-job learning, 1:1 mentoring and formal training courses which supported me and the way I learn best. Getting to try new things and work in different areas through the Graduate Programme gives great hands-on experience which was supported by one-on-one mentoring with my manager.
What are the benefits to doing a graduate programme?
A graduate programme gives you the opportunity to gain exposure to and experience in all aspects of the business. This is an invaluable baseline education in how the business works and it gives you a chance to work in areas you may not have considered or even heard of. In doing this, the programme allows you to find an area in which you can best play to your strengths and add value to the business.
Why do you recommend Kepak's Graduate Programme to new graduates?
Kepak is a great place to work with a fantastic team. There are always opportunities to learn and progress within your function or into other areas. Starting through the grad programme gives you a great overview of the company and a chance to work in different areas with the support of the graduate network.
To learn more about Kepak's Graduate Programme, visit https://www.kepak.com/careers/graduates/