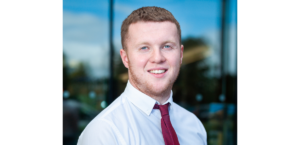 Our previous graduates know that hard work pays off, with many staying with us after the programme finishes. We're big on growth and by offering dedicated mentors and personal development training, you could find yourself working and thriving in any section of the business. The Graduate programme is tailored to unveil growth opportunities and help you make the most out of your time.
James McGahern, Supply Chain Analyst, shares his experience being part of Kepak's Graduate Programme:
How has the Kepak Graduate Programme helped your career progression?
My time on the graduate programme has helped me gain an insight to all areas of the business such as operations, technical, commercials and supply chain. When I started with Kepak McCarren Meats, I was working on the factory floor where I learned the business from the ground up. I think this is an important thing to do as it opens you up to the whole operations that goes on in the factory. I am currently working in Supply Chain which I really enjoy. Having the experience of the other department has helped me immensely in my current role.
What is the best part of your job at Kepak?
In my current role, I am working as a Supply Chain Analyst. As some markets/customer requirements change constantly, no day is the same. Keeping up with current market trends and customer's needs, which I find very interesting. I learn something new everyday whether it is from an operational or technical point of view or something new within my own role. Every day is different.
Why did you choose to work with Kepak?
I chose to work with Kepak due to the diverse opportunities the company has to learn and grow within the business. Having studied Agricultural Science in UCD, I was keen to enter the Agri-food sector immediately but didn't know what area to go into. If you were selected as a 'Rotations Gradate', Kepak offered a unique structured programme were graduates would get the opportunity to work in operations, logistics, technical, supply chain and commercial departments to name a few. This stood out for me as I didn't fully know area I would like to have a career in which Kepaks offering was just what fit my situation.
What supports/training did Kepak provide as part of their Graduate Programme?
The training and supports the Kepak has provide when I was doing the graduate programme were second to none. We had many different training days in order to develop us for our future roles within the business. Training in topics such as Assertive Communication, Presentation Skills, Time-Management and Microsoft Excel training. In my second year of the graduate programme, graduates undertook a Diploma in Professional Competence with Technological University Dublin. We studied modules in Motivation, Communication, Teamwork and Leadership. I found this extremely beneficial and helped me throughout my time in the different departments I spent time in.
What are the benefits to doing a graduate programme?
You are exposed to every part of the business. You are in control of what you get from each area you are in. It helps you explore areas that you never seen yourself going into, and potentially having a career in that area. Meeting and dealing with different people with different backgrounds learning from each other every day. Meeting other graduates coming into the business that are on a similar wavelength as you, mad to learn and keen to get stuck into the business.
Why do you recommend Kepak's Graduate Programme to new graduates?
I would highly recommend the graduate programme to new graduates with all the training, supports and mentorships throughout the programme it really helps you develop both in a your professionally and personally. Working in teams with a vast amount of knowledge and experience helps you develop a better understanding of the business as a whole.